Best Electric Unicycle on the Market Today
Everyone thought electric bicycles were unsafe.
They thought electric scooters were pointless. Well, have I got new for those people—electric unicycles will unite us all.
This unique method of transportation isn't just for commuting, but it's also just a ton of fun to use.
Couldn't we all use a little spice in our morning commute? A little variety?
It's time to skip the train and take the unicycle (don't worry, I'll come up with a more catchy way to say that).
We have the five best electric unicycle models on the market in this list today, alongside a ton of features to discuss, selling points to look out for, and the answers to your burning questions about the most unique mode of transit that we have today.
It's time to take your commute to the next level with an energy-efficient, high-range electric unicycle.
Best Electric Unicycle – Reviews And Recommendations For 2022
Gotway Tesla 16" v2
Featured Specs
Size: 25" x 12" x 23"
Type: Folding
Speed: 30 MPH
Weight: 42 lbs
Battery Capacity: 1020Wh
You want to zip through the streets, you want to have longer battery life so you can let this sit while you work, and kick off when it's time to head home. No more subway cars for you. Gotway provides the absolute best commuting experience imaginable, all thanks to their generous battery and high speeds.
While this isn't an electric unicycle with seat spots (meaning you can't add an aftermarket seat even if you wanted to), it does have excellent fold-out pedals, which we'll get more into in a moment. Many folks get bummed out about the lack of seat, but you have to understand that it's actually not the norm for electric unicycles. It grants you less control, which is why standing and positioning yourself while crouching is the best way to use one of these.
But about those pedals! These fold out to give you a sturdy foothold on your unicycle. While we don't have an exact number, the total unit holds up to 300 lbs of user capacity, so it's reasonable to assume that these pedals individually hold around 150 lbs since most of your user weight will come down directly on them.
They're built sturdy and rigid, but probably contribute a lot to the total unit weight. This electric unicycle weighs 42 lbs, which is like carrying five gallon jugs of water all at once. Sounds simple, but if you have to take this up the stairs to get into work or your apartment, it weighs on you. All electric unicycles have some good weight to them, this one just more so. If you aren't able to lift and carry this from place to place, it might not be the right fit.
With the right weighted user and a full charge on this decent 1020Wh battery, you can get about 50 miles out of this before it needs to be recharged. That's pretty fantastic for any battery. However, charging the battery does take some time. You get 80% of the initial charge after just two hours, while the rest of the lithium-ion battery fills up over about 90 minutes for the remaining 205 (just based on how batteries cycle and charge).
However, that's only if you tack on another purchase at checkout: the optional fast charger. Now, if you are actually using this for commuting, I do recommend getting it since it's well worth the price, but if this is a leisure vehicle you just want to mess around with on weekends, you can ignore this part and just take the extra charge time. It's not a huge inconvenience.
Last but not least, this can zip up to an impressive 30 MPH. If you're in the city, then you'll actually have to drive this on the road like a car. It can keep up with the others on the road, and you'll definitely get a ton of looks that will make you laugh. Just be careful to have a full charge before you pull into the actual street. You don't want the battery to die while you're in the middle of riding in front of a Honda Civic that keeps riding your tail.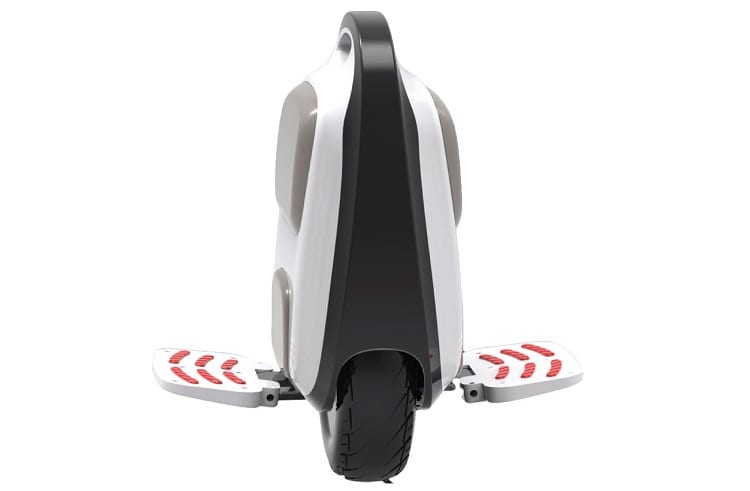 Featured Specs
Size: 20" x 10" x 16"
Type: Folding
Speed: 23 MPH
Weight: 22 lbs
Battery Capacity: 512Wh
Why is it called the pocket rocket? Because it's a ton of power in a little package. This extremely small unicycle has a fairly elite set of stats, which is why it made it to the second spot on our list.
This self balancing unicycle has a rapid charge time. In two hours, you're at 80% capacity. After that point, it takes roughly one hour to finish off the charge, which you should always do. However, if you're using this for commuting like you should be, that quick charge could be the difference between gliding home, or walking home carrying this.
If you did end up having to carry this, at least it's lighter than the others on this list. Despite it being ultra powerful, it weighs just twenty-two pounds overall, which is pretty impressive. Normally, you end up having all these trade-offs when you get something in a compact size like this, but the designers here really put everything on the table.
You have a maximum user capacity of 220 lbs. This includes clothes and your backpack (which you will presumably have if you're commuting), but for the size of the unicycle, that's a generous max load size. With that in mind, it has about a one-hour continuous runtime.
You can hit speeds of 23 MPH, and with hill assistance, about 27 MPH. The range is between 25 MPH and 30 MPH for a total charge, so for the first life cycle of your battery pack, that's about one hour per charge before the battery is very, very low.
One of the best things about this unicycle is the user interface. If you look closely, there's a battery bay with multi-color LEDs to indicate your current battery charge. On top of that, there's a headlight on the front that has a fairly bright output, so you'll be able to see where you're going properly in the early morning and dead of night.
The pedals here do take some getting used to, but thankfully there's a great amount of tactile grip for the bottom of your shoes. I don't recommend wearing anything bulky with this like boots, but if you need to have certain shoes for work, you can always keep them in a bag while you ride to and from. Use sneakers with an anti-slip grip on the bottom if available.
With a clearly accessible USB charging port and handle slot, this has all the utility that you crave. It's easy to carry, to charge, and overall the whole thing just works extremely well for what it is. The pedals are also fairly thin, so they fold up to be flush with the entire unicycle.
One last bit of information on the battery. That 80% charge in two hours is only with the optional charger that you can purchase. If this is being used for commuting, it's definitely worth it to drop the money on this charger, but it might not be for everyone.
King Song 14D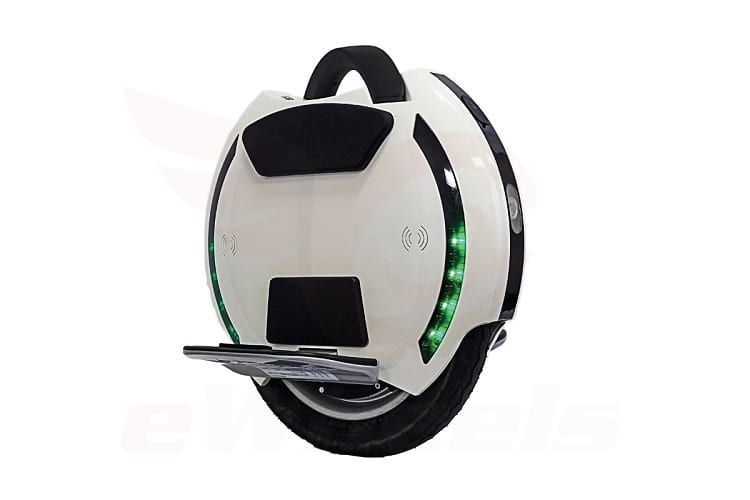 Featured Specs
Size: 26" x 12" x 22"
Type: Folding
Speed: 18.6 MPH (800W motor)
Weight: 30 lbs
Battery Capacity: 420Wh
The King Song sounds like a mythical fable or a nutritious granola bar, but the King Song is actually one of the most versatile electric unicycles on the planet. They've optimized just about every feature here, so while it might not hit the same speeds as some other models, there's a good balance to all of the features. Let me dive into it for you.
This motorized unicycle comes in with the perfect speed for beginners at just 18.6 MPH. Considering the price you're paying, it's a good amount of speed for the money. That's running on a 420Wh battery, which allows for around 20 miles worth of range. Basically, one solid hour of use before you have to recharge it.
When it comes to recharging, you're not going to have the best time. Many electric unicycles recharge fairly quickly, but this takes about three hours just to hit 80%. After that point, the remaining charge can go rather slowly, so you should account for having ⅘ of your total battery for rides back home after commuting to work.
The max load here is 200 lbs, which is about average for many of these electric unicycles. 180 is on the lower range, but this gives you a good amount of room to work with accounting for clothing and backpack weight. Available in black or white.
When you go to pick this up and bring it inside after you reach your destination,
Segway Z10 Ninebot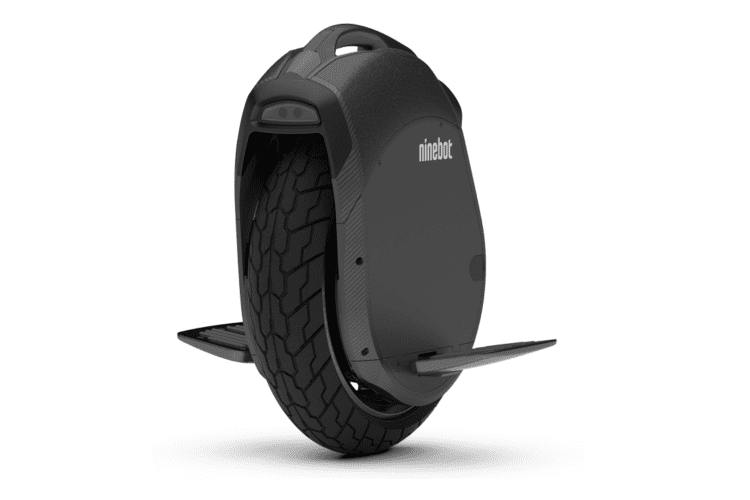 Featured Specs
Size: 18" x 4.1"
Type: Folding
Speed: 28 MPH
Weight: 53 lbs
Battery Capacity: 995Wh
This one wheel scooter absolutely shreds everyone else in the same space, and it's all for one reason: battery capacity. Well, that and the stellar speeds, but we'll get into that. You have a massive 995Wh battery on board here, which is good enough for an impressive 56 miles worth of range. Basically, if you kick this into high gear and max out the speed the entire time, you have two full hours of non-stop riding.
The max speed on the Ninebot goes up to 28 MPH, which is nothing to scoff at. It's almost the fastest electric unicycle on the market. What it has in speed, it also brings to the table where weight capacity is concerned. While you should have a healthy weight (mostly for knee support and CoG), this fantastic little device holds up to 330.7 lbs, which is one of the highest capacities that we've seen on any electric unicycle to date. A lower driver weight—which includes clothing weight and your backpack—will definitely yield better results.
With an IP54 water resistance rating, we finally found something that isn't quite so good on the Ninebot. This is an impressive little machine, but IP54 waterproofing isn't even tightly packed enough to prevent dust from getting into your machine's internal parts. It's really nothing to do backflips over. This barely helps, and for the price of the Ninebot, we would have liked to see more. If you're riding this and it starts raining, get inside immediately and pack it up.
As far as app connectivity goes, this thing is pretty solid. Via bluetooth, you can monitor and control everything on the app, making it very user-friendly in almost every single way. Overall, it's a very nice unit with minimal issues, you just can't ride it in the rain. You're not going to get better battery retention or range, but then again, you're not going to get a rock-bottom price on this, either. If you like premium, then this is for you.
King Song 16S
Featured Specs
Size: 21" x 11" x 23"
Type: Carrying
Speed: 22 MPH
Weight: 38.5 lbs
Battery Capacity: 840Wh
We've got one more King Song on our list for best unicycle on the market, and this one hits home with some serious power. It's the second-fastest on our list at a whopping 22 MPH, making it perfect to use in the street while you're commuting to and from work.
If you've ever looked up the 16S model before from King Song, then you might be surprised to hear that. The previous max speed was 18.6 MPH, but this unit is simply a step above the rest. That being said, it's also a few steps above the standard price, so you can expect to hit low four figures on this one.
Is it worth it? Absolutely. With a wicked 840Wh motor, you have more capacity and longer runtimes than almost any other electric unicycle out there, so you can cruise 'til your heart's content. There are significant upgrades to the wheel underneath the cover, which helps when it comes to actually utilizing that bigger battery in a more efficient way.
Where this is most likely going to be used for commuting, having bright LEDs can be a game changer. You need to be able to see where you're going, but you also need to remain bright and vibrant to the other vehicles around you to remain safe. I imagine you'll be riding this in the road or in bicycle lanes on the way to and from work, so when nearby cars turn, that's when you run into an issue with visibility.
Charge times can vary, but initially, it takes about three hours to reach 80% of the battery's peak power. That sounds like a long time, but it has a solid range that allows you to run it for about two straight hours depending on your speed output. Cruising at a cool 18 MPH is going to give you two hours out of the 35-40 mile range, but kicking it to full speed might drain the battery in about one hour and twenty minutes.
Weight is another thing to keep in mind here. The lower the load on the unicycle, the better mileage you're going to get on a single charge. This brings a serious 250 lbs of weight capacity to it, but that's just a threshold. You still want to keep your weight down as much as possible: lighter backpack, lighter helmet without sacrificing safety, thinner clothing if possible. If you reduce the drag, you enhance your efficiency.
It's a heavy little beast, though. If you plan on bringing this into your work when you hop off of it, be prepared: it weighs 38.5 lbs. It's a lot to carry up the stairs, but definitely worth it. It's not confirmed, but we believe that the increased weight helps with not only the maximum rider weight, but the overall smooth glide when using this that King Song users enjoy.
Electric Unicycle Buying Guide & FAQ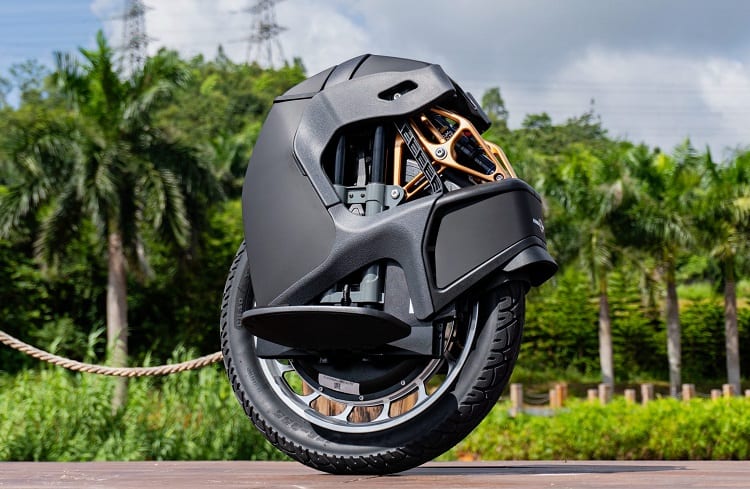 Are Electric Unicycles Safe?
As safe as any electric vehicle really is. Electric skateboards, unicycles, and even electric bicycles all come with safety concerns.
I would say that out of all three, electric unicycles are the easiest to get hurt on if you don't know what you're doing.
We've done these electric unicycle reviews with safety in mind, which is why nothing here goes above 30 MPH. There is a higher speed unicycle that we'll mention shortly (although it's over $2K).
If you use them properly, electric unicycles are safe. They have a fairly high skill ceiling, meaning that you're going to have to work on your center of gravity, commonly referred to as CoG.
Your center of gravity is the middle point in your body where you balance from. For men, this is usually in the chest. For women, this is usually in the midsection.
When this area of your body feels off-balance, you immediately feel like you're falling.
If you ever go to tip over and you get that sense of "Uh-oh, I'm going to lose it," that's your CoG being thrown out of whack.
It's the hardest learning curve with an electric unicycle, and once you have that down pat, you greatly increase your odds of remaining safe while operating one.
How Fast Does an Electric Unicycle Go?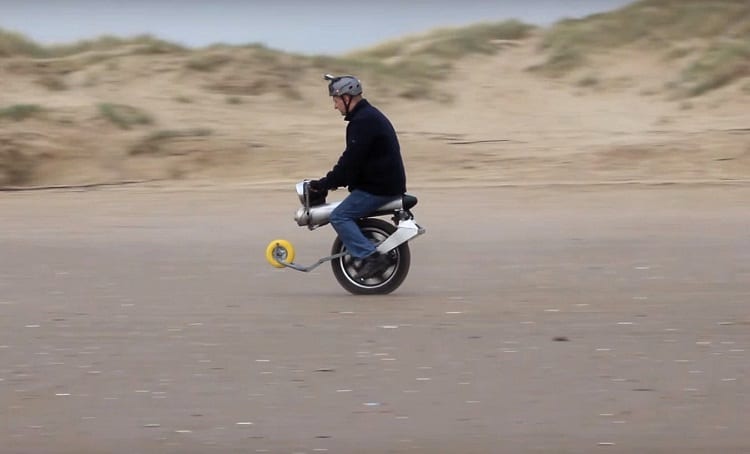 Electric unicycles can go pretty fast. When you account for your CoG like we just talked about a minute ago, you can really accelerate on these things and go flying down the road.
The highest speed on any electric unicycle on our list is 30 MPH.
That's the average speed limit of most US roads, meaning you can (and legally have to) drive in the road and keep up with traffic. It's guaranteed to turn some heads.
At the time of writing this, electric unicycles are still a fairly new concept.
While we've seen a 68 MPH electric skateboard, those have been around forever, so it's no wonder they've reached this threshold.
The fastest electric unicycle to date runs at 35 MPH, and rides nice and smooth.
35 MPH speeds would only really be necessary if you're using this in the city to commute and get around for social reasons, but it's also enough to keep up with just about anyone on the road (even if they're speeding a wee little bit).
Are Unicycles Hard to Ride?
Yes, they're pretty hard to ride at first. If you take a minute, this video here shows you what it's like when you've fully mastered your electric unicycle. How long it takes it entirely up to you.
See that guy?
He's grooving, he's cruising, and he's in a business suit of all things. That took a lot of practice to get used to.
You can expect about twenty to forty total hours of use before you are comfortable riding your electric unicycle with no issues.
Confidence is the name of the game here. After this amount of time has passed, there's nothing but practice and application until you get to the point of mastery.
If you master an electric unicycle, you'll be like the guy in the video: top speeds, perfect control, zero worries.
We have a full guide on how to use an electric unicycle from start to finish if you want to check that out.
What Gear Do I Need For An Electric Unicycle?
These things can go pretty fast. You want to be safe and treat it like you're on a motorcycle.
That means long pants, leather jacket if possible (or at least a thick sweatshirt), knee pads, and a helmet with a visor.
The visor is not only important to cut down on wind in your face so you can see, but also in case of a spill.
Wear protective gear. Make sure your shoelaces aren't loose or dangling, and that your pant legs aren't hanging too low.
It's not going to get trapped in the wheel because of the housing, but it could get stuck in the edges of the pedals when they fold back up. That's something you don't want.
How Long do Batteries Last?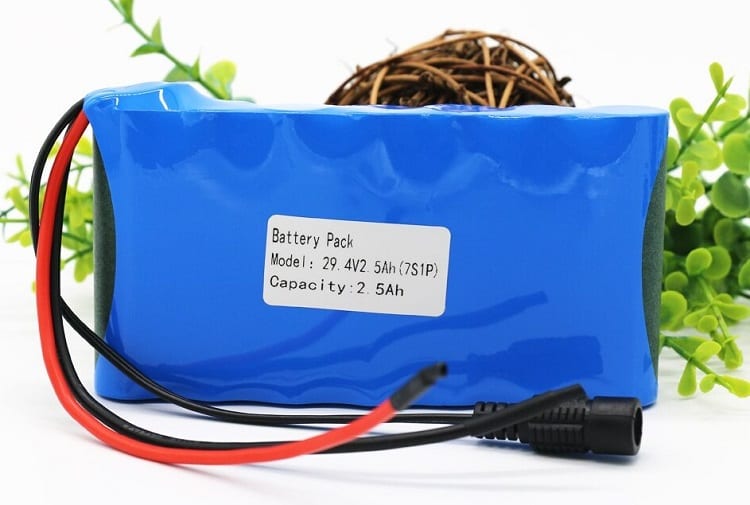 It all depends on how long you use them, and how well you take care of them. The battery inside of your electric unicycle is a lithium-ion battery.
That might sound familiar, because it's also the same battery that's inside of the phone you're reading this on, or the laptop you're using to shop for one.
They're everywhere, and they have some stipulations.
Lithium-ion batteries that are used constantly often last about three to five years before they've completely died.
I'm talking dead to the point that they only work if they're directly plugged in to an AC adapter, or something extreme like that.
That's because generally speaking, lithium-ion batteries have about 500 cycles or charges in them before they drop back to 80% capacity.
Shortly after (another 100-300 cycles, we'll say), you end up being at about 50% maximum retention, so your battery half works. It's a steep, rapid downhill descent from there.
Thankfully, I have some tips to let you maintain your battery's charge.
Don't Let it Drain Completely
When your battery completely dies, you actually damage the power cycling.
You'll download apps or read posts about prolonging your phone battery, and all of those tell you to let it drain completely.
There are some benefits to them, but that's for slow discharge lithium-ion batteries.
For rapid discharge batteries, you don't want to drain it too much, otherwise the power cycling does a real number on the cells inside of the battery pack.
Since battery packs are usually made up of multiple smaller cells, and you can burn out cells individually if you aren't careful.
No Fun in the Sun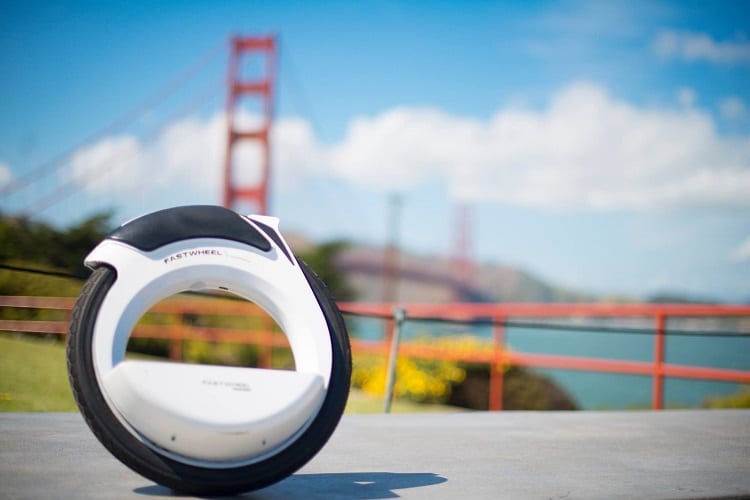 You can use this in just about any temperature, but you have to be careful about it.
If you bring this out to cruise and sit at an outdoor cafe with a friend, be sure this is sitting in the shade or packed up in a backpack of some sort.
Lithium-ion batteries are heat sensitive, so if you leave your electric unicycle out, the heat from the sun can overheat the battery.
This isn't going to make it split or incur major damage right away, but it still does cause damage, which will multiply the next time you leave it in the sun. It's simply a precautionary measure.
Store at a Cool Temperature
Lithium-ion batteries have operable ranges, and then they have storage ranges.
When a lithium-ion battery is running reliably for hours on end, it heats up.
You've felt the laptop get hot on the back end while it sits on your lap or the dining room table, and that's okay, because it's doing what it's supposed to do.
When you're storing it, you need a temperature of about 56°F up to 68°F so that the cells aren't stuck in that state of heat.
If the battery is off and it's hot (beyond the time required to cool it down), you can damage it.
Rotate Batteries
Ideally, with something like an electric commuting vehicle, you're going to have a backup battery at-the-ready.
When one of them starts to die on you and only gives that 50-80% maximum retention, you'll have another one handy so you can still commute without having to wait for a new one to arrive in the mail.
If you can, remove your current battery and shelve it for a week, and in the meantime use the other one.
One week on the shelf at full charge isn't going to have a negative consequence for your battery (although extremely long storage times can have a negative effect, such as three or more months of no use).
Alternate and they'll both last a bit longer than expected.
Don't Overcharge; Set Timers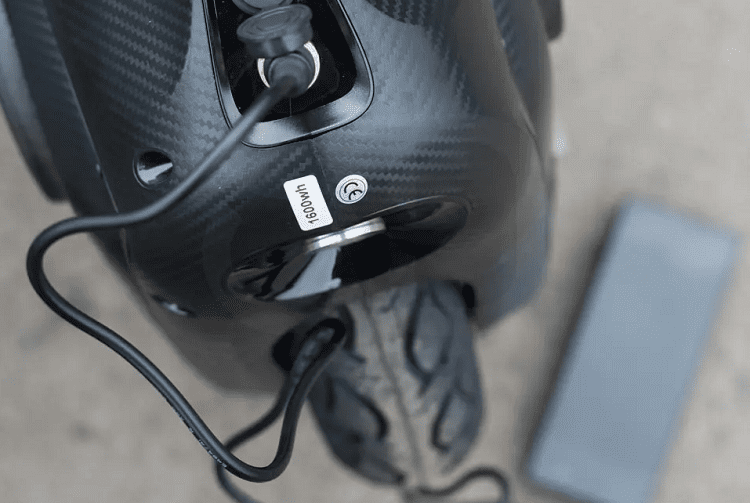 Overcharging your batteries is another problem entirely. This involves leaving them on the charger and just walking away without knowing when it will be full.
Most battery chargers have an LED indicator, or at the very least, have a rate of recharge that you can use with the mAh to determine how long you should be charging it for.
Do your best to not overcharge it—set timers, ask someone nearby to unplug your battery for you when it charges, or set reminders on your phone. Whatever it takes, just don't overcharge.
Do You Need a License to Ride One?
Okay, so here's the tricky bit of business—no, you do not need a license to operate an electric unicycle yet.
At the time of writing this, it's 2020 and the world is crazy, so laws around electric unicycles aren't exactly top priority for lawmakers in just about any state right now.
But it's more than likely that laws are about to come down, and come down hard in the next two to three years.
It's anticipated by many individual members of the electric unicycle community via forums and social media that we have about three years before strict laws come into play.
That being said, this is for some areas, but not all. In some places, you do have to have a license to operate it, especially if it goes over a certain MPH.
Electric unicycles can be pretty wild, like the Gotway on our list that hits 30 MPH.
That's the average speed limit for most streets in the United States, and enough speed (for a car) to collide with someone and fatally injure them.
Of course it should be regulated and require licensing.
Some electric unicycles will have a low enough maximum speed that the police won't pay you any mind.
In states like Florida, there are laws that say you cannot use electric vehicles on any public property, though.
Technically, any traffic court judge would argue that an electric unicycle is an electric leisure vehicle, so you can't really get away with it.
That means no parks, no public parking lots, or anything of the sort (which usually means skate parks if they're owned by the city).
However, you can use it on private property. That means your own, as well as private property of others with their exclusive permission.
While this isn't something that everyone is going to approve of, you might get the right to use parking lots on weekends at places that are only open Monday through Friday, or church parking lots so long as mass isn't in session.
Things like that. This is rampant in Florida, but some other state laws may change to mimic them, so be prepared and remain updated on your local and state laws.
Electric Unicycles Are Sure To Catch Attention
Ask yourself this: when was the last time you saw someone riding a manual unicycle?
They're definitely an attention-grabbing way to get around, but they're also extremely handy and compact compared to electric bicycles.
If this doesn't tickle your fancy, that's okay; you can consider getting an electric skateboard for something that's a little more low-profile.
Learning to ride an electric unicycle actually has a fairly steep learning curve.
Most people assume it's just a hop-on-and-ride kind of thing, but it's entirely different than even riding a manual unicycle.
If you're up for the challenge (and a ton of fun), it's definitely worth your time to try out.
It's a compact way to get around, but on top of it, it's extremely unique.
I'm willing to bet that you'll be the only one of your friends to have one of these.