Best Electric Unicycles for Off-Roading
If you are familiar with electric unicycles, you may soon realize in your travels that some models are better for traveling off-road. Thankfully, there are many options for unicycle hobbyists to enjoy this activity beyond the borders of the pavement.
Fortunately, if you are searching for the best offroad EUC, you've come to the right place.
This guide details several off-road choices currently on the market that will have you exploring the world beyond your current limitations.
---
Best Off-Road Electric Unicycles
I know you're excited to read about which EUC models are the best for off-road travel, so let's get right into the details.
Inmotion V11
Key Details:
Battery: 1500Wh
Top Speed: 32-34 MPH
Pros
Potent Motor
Scratch Resistant
Climbs Slopes of 35°
This off-road electric unicycle model stands out by being one of the tallest options on the market. A taller model helps riders ride faster, sit more comfortably, and even help a bit with balance.
It has an XL tire to help make contact with road surfaces, providing more stability even with rocky or slippery terrains. This model is also lovely because it has a fold-up handle to help hold your luggage while riding.
---
9Bot One Z10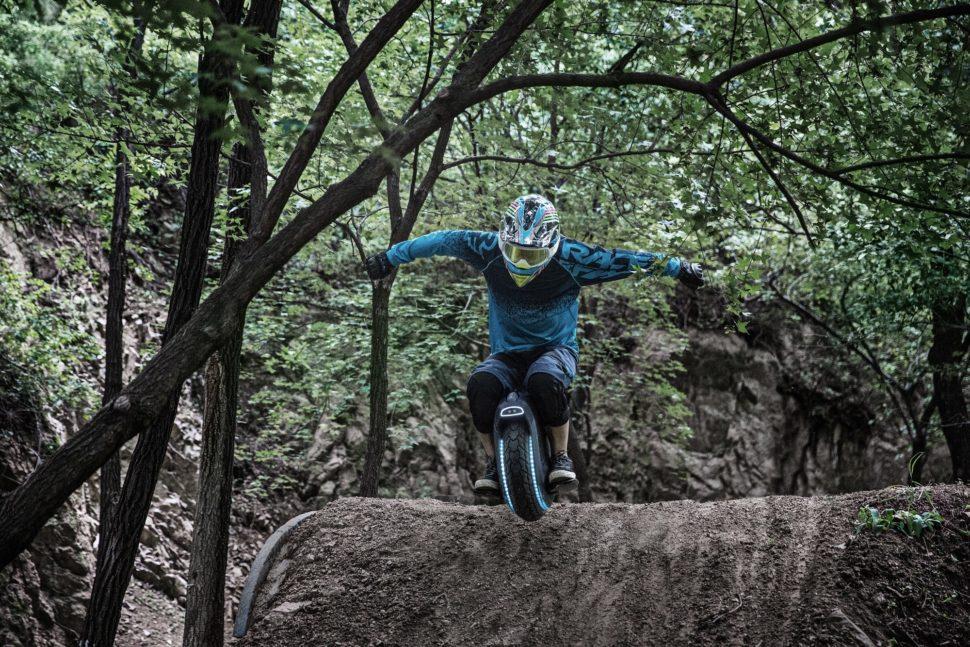 Key Details:
Battery: 995Wh
Top Speed: 28 MPH
Pros
LED lights on the front and rear
Ergonomic pedals
Integrated battery display
Cons
A bit on the fragile side
It has a 10-hour charging time
This model features a decent 1800W motor, range, and speed. This model can go for 50 miles at close to 30 miles per hour and is great for a moderate ride.
This off-road unicycle has an 18″ pneumatic wheel, 4.1" thick, perfect for going over rough terrain. If you want to go off-road on your cycle, this is certainly a product to consider.
On top of its versatility, this model has ergonomic pedals. These pedals are incredibly comfortable and help keep your ride going for long periods.
This off-roading unicycle model boasts an exciting design reminiscent of space technology. This unicycle is sleek and contains a dark black design.
---
Veteran Abrams
Key Details:
Battery: 3500Wh
Top Speed: 70 MPH
Pros
Incredibly fast
Anti-slip pedals
22" Tubeless wheel
Cons
Expensive
Heavier than other models
As the name suggests, this unicycle model is not for a novice. Consequently, the Veteran Abrams is easily the fastest off-road electric unicycle on the market with its 3500W motor.
Not only is it fast, but it is stable for frequent off-road trips. In addition, it includes a 22" tubeless wheel, helping to reduce the chances of flats and allowing customization of lowering PSI for a more comfortable ride.
While the higher price point of this unicycle might deter some prospecting customers, know that it is worth every penny. This model provides the speed you can't get anywhere else and is undoubtedly the premium electric unicycle.
---
Why Buy an Off-Road Electric Unicycle?
If you love outdoor adventure, an off-road unicycle could be a new way to experience the world around you. Unfortunately, while many riders worldwide already use electric unicycles for their daily commute, these models are inadequate to take away from the city roads.
This need is where off-road electric unicycles come in. So, an off-road model is your best choice if you already know how to ride a unicycle but need to cover alternative terrains, like grass, mud, snow, or trails.
In addition, these styles are terrific if you want to expand your horizons and branch off from traditional paved roadways into hiking trails for a more scenic ride. Finally, some avid unicyclists will participate in extreme rides through mountainous terrain with these durable off-road models.
Examining your transportation needs and where you will be riding is essential before buying one of the best offroad EUC models.
What Are the Advantages of an Off-Road Unicycle?
Like standard unicycles, off-road electric unicycles are beneficial in several ways. When compared to owning a vehicle, they are cheaper, better for the environment, and will provide you with regular daily exercise.
Manufacturers tailor these models to tackle rough, uneven terrain without riders losing their balance. Additionally, they are more evolved than manual pedal options from the past and can include air suspension for a smooth ride.
Besides these advantages over traditional motor vehicles, electric unicycles also boast many benefits over electric bicycles and scooters. Unicycles are smaller and easier to move around than the alternatives, so they are a great solution for anyone with limited space or requiring a more convenient option.
Naturally, users may worry about the potential battery life of using rechargeable off-road transportation. Fortunately, users can attach a solar panel to their electric off-road unicycle to help keep it powered while on the go and minimize the chances of running low on battery power away from an electrical source.
In addition to benefits like fuel efficiency and exercise, unicycling is fun. Riding an off-road unicycle is a unique way to explore the outdoors at your own pace.
In the End
Ultimately, deciding which of these choices is the best offroad EUC is up to you. Consequently, not one will be the best offroad electric unicycle for every rider. Therefore, it's up to you to assess your needs and decide what features you value most.
You must explore products that will suit your budget and needs. Otherwise, you may find yourself with an off-road unicycle that you won't use.
Whatever choice you make, all these options can serve as great off-road electric unicycles for anyone looking to expand their terrain options and improve their rides away from the city.